Wei Xianfeng, Deputy Mayor of Luoyang City, visited Gengli Machinery for investigation
Wei Xianfeng, Deputy Mayor of Luoyang City, went deep into the "Ten Thousands to Help Ten Thousand Enterprises" subcontracting contact enterprise Henan Gengli Engineering Equipment Co., Ltd. to conduct investigations.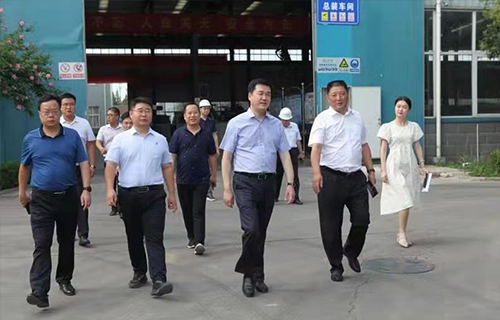 The deputy mayor fully affirmed the company's basic manufacturing, technological innovation, and product research and development capabilities. At the same time, he highly recognized the company's intelligent product development and promotion. He eliminated specific guidance and eagerly expected related business development. I hope that the company will make full use of technology, brand, market, etc., and insist that the project is king. Continue to increase scientific and technological innovation, actively expand new products and business areas, quickly seize market opportunities, and accelerate the transformation and upgrading of enterprises and high-quality development. Subsequently, Vice Mayor Wei spent more on providing assistance and support to enterprises in terms of policy support and coordination of specific issues through the "Ten Thousands of People Helping Ten Thousand Enterprises" activity. The company makes full use of relevant national and local policies to benefit enterprises, seizes major national strategic overlap opportunities, and improves the ability of the company to develop sustainable development.