After four months of hard work, the company's main workshop, on behalf of the company's most professional steel processing equipment
, was s
uccessful
ly
launch
ed
under the eyes of all employees,
marking the successful entry of the equipment Intelligent equipment field. The offline
products are: five-head steel bending machine (WJ-5W25)
,
CNC bending machine
(
WG-12
),
double head bending machine
(
ZX-G2L32
),
1.5m rolling cage welding machine, intelligent steel sawing and wire cutting ,
steel mesh machine
,
taper pipe
end forming
machine and
taper pipe end
punching machine, also represent the eight series of steel machine products of the company, which are of great significance to improve the intelligent level of steel processing in tunnel and bridge construction.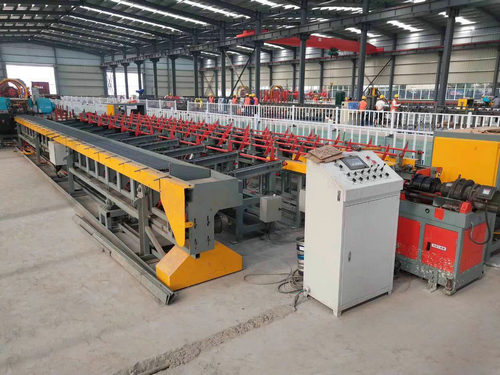 According to Liu Yawen, an engineer involved in research and development, the intelligent steel sawing and threading grinding line and the seam welding machine are the key research and development products of the company in the first half of the year. The 1.5-meter rolling cage welding was put into production, which greatly compensated the company's rolling cage below 2 meters. The vacancy of welding equipment adds new highlights to the company's intelligent steel processing. WG-12B CNC bending machine is suitable for straightening, bending and shearing HRB335 hot-rolled ribbed steel with diameter φ6-φ12mm, HRB400 hot-rolled ribbed steel bar, light round steel bar and cold-rolled ribbed steel bar. The utility model has the advantages of convenient operation, high production efficiency, and the like, and can bend more than one hundred different shapes of the workpiece, and the workpiece has a regular shape and an accurate size. When bending ribbed steel bars, the transverse ribs and longitudinal ribs have no obvious damage and the mechanical properties are stable. The machine can be widely used in the construction industry, steel processing plants and steel distribution departments.